Ever fancied building a fly rod, but were worried it was too hard? Or do you love the look and feel of the new high-performance glass rods on the market today?

If you have answered yes to one or both of these questions, then look no further.

Epic Flyrods

are having there annual blem' sale. This sees them offloading rod blanks that havent quite made the cut from a QC perspective due to blemishes. All blanks are 100% structurally sound - so if you dont mind a small scratch here or there, then this is a deal too good to miss.

These come in a "ready to wrap" kit with everything you need to build what is arguably the finest glass rods on the market today. And having built a half-dozen or so rods to date I can attest to just how easy this is. Give it a go!
Powered by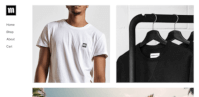 Create your own unique website with customizable templates.