Not long after I started fly fishing I took the leap to tying my own flies. My first vise was a cheap nasty deal that I bought from a local sports store which clamped onto the side of a desk. This was quickly replaced by a slightly more expensive (but still cheap) tying kit that came in a nice wooden box. This vise was made from brass, and if nothing else, it looked the part, and it served me well for a good fifteen years or so. Then I stumbled across a review in an Australian fly fishing magazine of a new product that had come onto the market. The article spoke of how this system - called a Nor-vise - revolutionised fly trying through the use of both a spring-loaded bobbin that applies tension on the tying thread, as well as the vise itself, which allows the tier to spin the fly effortlessly around its axis. Think of it kind of like a lathe, and your on the right track.

Having checked out the numerous videos on Norvises's very comprehensive

website

I decided that I had to have one. I set about trying to track down a supplier in New Zealand. No one seemed to have heard of Nor-vise, so after several failed attempts I emailed the owner of the company, and the inventor of the Nor-vise, Norm Norlander. Almost immediately I received a reply from Norm in which he pointed me to an outfitters who could supply me with one of these. I contacted the outfitter and was told that while they didn't hold any in stock (…not sure why) that they would be more than happy to order one in for me. Several weeks later and I was unwrapping my new toy.

The first thing that strikes you about the Nor-vise is how well it is constructed. It looks - and feels - solid, like it is made to last, unlike some of the cheaper vices on the market. The system consists of three major components. The vise with the jaws, a bobbin-rest post, and the Norvise bobbin. The Nor-vises's main point of difference over other vises is the ability to spin the hook around its axis very quickly, and a quick spin of the vise revealed a very smooth, almost friction-free movement. First impressions count, and in this case, so far, so good.

​

Unlike other vises, the Nor-vise does not have a stand, or a clamp to affix it to your working surface. Instead you need to mount the vise and the bobbin rest post to your working surface through screws located at the bottom of each part. I headed down to my local hardware store and picked up a nice piece of laminated particle board, the sort that you use for kitchen cabinetry, to use as my vice mount, although Nor-vise do offer a ready-drilled bamboo mounting board on their website. A couple of quick drill holes, and the addition of some self-adhesive non-slip rubber feet, and I had my Norvise mounted and ready for action.

The next step was setting up the bobbin. Again, this is a point of difference that sets the Norvise system apart from the rest. The unique bobbin is spring-loaded to allow thread to be wound on under tension. Release the tension on the thread, and it automatically winds back onto the bobbin. Think of a retractable tape-measure, and the concept is similar. You can pull as much thread out as you like. But let it go and it winds back onto the bobbin. The bobbin, like the vise, is very well constructed. A ceramic tube ensures that there are no rough surfaces or burrs to abrade the tying thread, and the bobbin comes with a total of four spools that can be loaded up with different types of thread, and which are quick to change. Loading the spools is straightforward thanks to a nifty little attachment that you can clamp into a power-drill and which holds a cassette. Wind some thread onto the spool and start the drill, and watch the cassette quickly fill up with thread.

The vise I purchased came with the standard in-line jaws. These - as the name implies - are not offset, and are great for tying larger pattern flies, such as lures and streamers used for trout, and saltwater patterns. At the time of purchasing my Nor-vise these were the predominant patterns I was tying. However, as time progressed I started to do more and more nymphing. I found the inline jaws just a bit too big to comfortably hold a size 16 hook, without it getting lost in the jaws. But - and this I think is one of the strongpoints about the Norvise - there are numerous accessories that you can purchase to enhance the system, one of which is the fine-point jaws. These feature and angled adjustable set of jaws capable of holding the smallest of hooks, and being off-set they enable you to get the bobbin into places that the in-line jaws just won't allow you to go.

Changing the jaws is simple. Just unscrew two small allen-head screws (allen key is supplied), pull out the old jaws, slot the new ones in and tighten the screws, and away you go. The only downside to the offset jaws is that it can be difficult trying to get the hook in a position that allows you to spin the fly rapidly while maintaining it on a level plane. But then with small hooks this is less of a requirement than if you were say tying a large fly with a long hook shank where you were winding on numerours materials (such as a Woolly Bugger).

So, how does it rate? Well, since purchasing a Nor-vise I have found I tie more often than I used to. Tying flies such as Woolly Buggers is a breeze, just tie in the materials, spin the vice, and move the material down the hook shanks while watching it wind on. Additionally, Norvises's website is a great source of information on how to use the system, with numerous

videos

showing different techniques that can be used, and showing how to tie a number of different patterns.

The Norvise takes a bit of getting used to , but like all things, the more you do it, the better you get. The bobbin is amazing, and quite frankly, I don't know how anyone could tie without one - with or without a No-rvise to use it with. I don't think I could go back to using a standard vise now, and I often watch friends tying flies on their more traditional systems and are amazed that they wouldn't switch to something that in my opinion is so much simpler to use.

​

Overall rating 5 out 5.
Powered by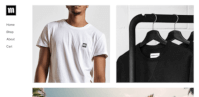 Create your own unique website with customizable templates.