For the past few years I have been dabbling in the art of rod-building. I have found that I get quite a lot out of doing this, and the satisfaction of catching a fish on a rod that you built, using a fly that you have tied, is perhaps the nirvana of fly fishing. Or at least it is to me.

I have built over a dozen rods so far, and a number of people I have shown them to have commented that they were "good enough to be sold" - so, why not then?

And so that is how Dry Rise Custom Fly Rods was born. I have already completed my first commission - a very nice Epic 480 that is to be gifted to a VIP visiting New Zealand - which is quite an honour, and a great way to kick off the brand, and I am about to start on an Epic 580 that will shortly be available for sale.

I will be starting small. This is not about making a living - more about finding a way to pay for my hobby (there are only so many rods I can build for myself!), and it is something I do after hours, usually at night, while the kids are sleeping.

There will be a website that follows, but in the meantime there is a Facebook page up and running - check it out at

@dryrisecustomflyrods

. Rod builds and other information will be posted there. Oh, and there is a logo. For those not familiar with the term - Aotearoa is the Maori word for New Zealand, literally meaning "the land of the long white cloud."

​Tight lines!
Powered by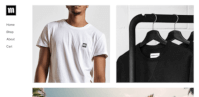 Create your own unique website with customizable templates.